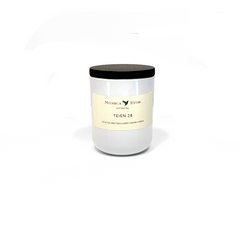 Teien 28 Scented Candle Small
Settle down into the comfort of ancient Kyoto's natural jewels as plum, rose and orange blossom come to the present moment to delight your senses. Beyond the freshness of its Japanese garden's flowers hides a shrine that brings the mellow warmth of amber softly carrying you back into the past as this nostalgic scent stays with you.
Top: Japanese Anise Tree, Neroli, Plum
Heart: Jasmine, Cherry Blossom, Yang Ylang
Base: Amber, Musk
Average Burn Time: up to 50 hours
Container Height: 93mm
Container Diameter: 81mm
Wax quantity: 210g
Hand blended and poured
Pure non-toxic natural wax
Phthalate free
Paraffin free
Cruelty free
Nitro Musk free
Vegan friendly 
Lead-free cotton wicks
Our luxury scented candles are handmade in London, using the highest quality non toxic natural waxes and natural lead-free cotton wicks.
To get the most out of your candle burn to edges on first burn and 2-4 hours at a time after first burn. Be sure to read our candle care guide for the best performance of your Monica Eter candle.
If you would like more tips and information you can find them on the Candle Care Guide page.