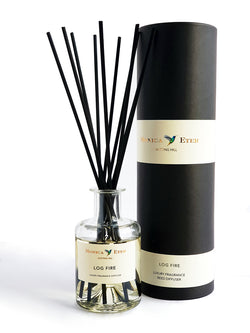 Log Fire Diffuser 200ml
Let this grounded scent take you to a forest cabin for a restorative rest. Fresh bergamot, calming lavender and earthy woods make for a cozy evening by the fire as smoky frankincense fills the room with its comforting warmth. A wonderful scent for a wind down.
Top: Bergamot, Limon, Mandarin, Lavender
Heart: Rosemary, Frankincense
Base: Dark Woods, Amber, Rich Spices, Cedar
Average duration: 6 months
Volume: 200ml
Reed quantity: 10 reeds included

Non-toxic
Sustainable
Eco-friendly
Vegan friendly and cruelty free
Packaging dimensions height: 288mm
Packaging dimensions diameter: 86mm
All our reed diffusers use our eco-friendly, sustainable and non-toxic base. This provides many benefits such as a healthier product for the home and a longer lifetime. It also results in slight colour variations in the oil, the diffuser oil you receive could either clear, light yellow or light pink in colour.
Here are a few tips to help you get the most out of your luxury reed diffuser.
After removing the stopper please insert the reeds and arrange as you prefer. Fanning the reeds will provide better dispersement of the scent to your room.
Place in a raised location that allows the scent to flow freely within your room. Allow up to 48 hours to initially fragrance your room.
If you wish to make the fragrance stronger turn the reeds more frequently or add additional reeds. To make the fragrance more subtle turn the reeds less frequently and use fewer reeds. To begin with use 5 reeds and add or remove to suit your personal preference. We find 7 reeds turned fortnightly suits most often.