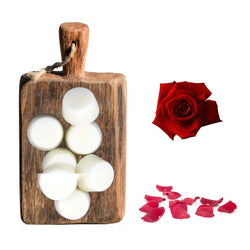 Rose Bohème Scent Melts
Stroll down Queen Mary's rose garden and take in the irresistible aroma as rich velvet rose petals come together with vibrant florals, exotic spices and an earthy oud to create this nurturing and delicate scent. A gorgeous addition to any home that brings out the dreaming bohemian within.
Top: Rosa, Pepper, Geranium, Azafran
Heart: Palmarosa, Spanish Rose, Warm Spices
Base: Green Leaves, Oud Wood, Patchouli
Average Burn Time: 120 hours
Wax quantity: 145g

Non-toxic natural wax
Phthalate-free and Nitro Musk free
Vegan friendly and cruelty free

Pouch Height: 210mm
Pouch Width: 130mm


Monica Eter Scent Melts provide a sensational scent throw and are a great way to enjoy our beautiful selection of fragrances.
Each packet contains 6 wax melts, each with an average burn time of 18-24 hours. This is a total of up to 144 hours!  can be used in either a tea light burner or an electric warmer.
It is worthy to note, tea light burners burn hotter so your melts will give off a stronger scent throw but will also burn through the fragrance quicker than using an electric warmer!

To use simply remove a scent melt from the packet and place in oil burner or electric warmer dish. For best result, use no more than 2 melts at a time.